Google Maps Street View is the anti-Stanton.  It's aim seems to be to achieve the exact opposite of Brandon Stanton's book "Humans of New York."  Using what might be called "facial derecognition software" all human faces are blurred out, sometimes to funny effect, but sometimes it's a little chilling.  You'll never find a better illustration of this than on the Burke-Gilman Trail in Seattle.
Instead of having a camera mounted on top of the car, this one was mounted on a pole at the back of the photographer's bicycle while he rode along  from one end, the Sammamish River Trail in Kenmore, all the way to Ballard, where he stopped at the Missing Link (a section of un-Trail that Trail activists have been looking to fill in-to connect to another segment just north).
You look at these pics and have to wonder, who are these people?  What are they doing now?  Do they even realize they've become blurred out non-persons on the Burke-Gilman?
In "Humans of New York," individuals are zoomed in on, stopped temporarily, and asked if they'd like to offer something personal about their life experience, how they're feeling etc.  When you zoom in on the humans of the Burke-Gilman all you get are things like this, a human walking near the University of Washington:
Sometimes when you get to an intersection, the date on the picture will zoom a few years ahead and you can see what has changed.  This view, like all of those from the Trail route run, dates from July '09.
The only thing that has really changed here, almost exactly 5 years later,  is that the price of parking has gone up.
Sometimes you see someone who simply looks as if they've been standing there the whole time, waiting for passers-by.  The anonymity of Trail-goers on any other day is a given; people pass by too fast to say hello to; except in the mornings, when everybody seems to be in a better mood.  Here, anonymity is made a certainty.
The ah-ha moment with Stanton's book comes when you realize that even with all these various stories of pain or happiness; stories that can make them seem so different; people everywhere are pretty much the same.  It's comforting yet also kind of exciting, even addictive.  Google Maps; however has rendered these resting workers (on the Trail around Lake City) inert, with no story to tell.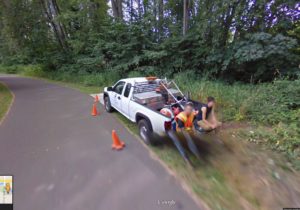 Here's a strange shot of the Google photographer changing his shirt (or something) while riding along: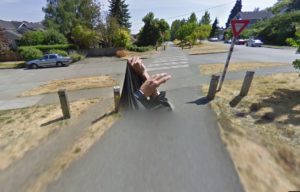 Then this view from Fremont from '09: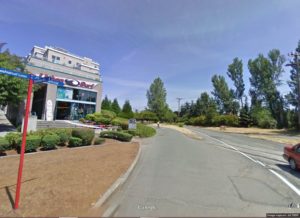 And another in '14, where the median has been taken away but the red car on the right seems oddly like the same one from 5 years earlier.  This view was made available by "stepping to the right" with the mouse.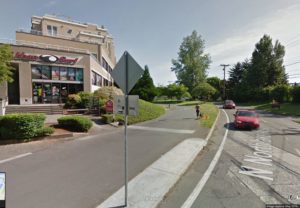 Here is one of many generic bicyclists who can be found along the Trail: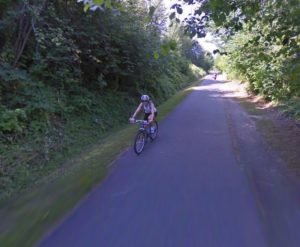 Somehow, along the way in Fremont, people were warned of the approach of the Google Bike; perhaps the greeting was so nice the powers that be decided not to neuter any of their identities:
It seems odd that Google Maps would even be interested in visually cataloging this trail; the appeal, I suppose, is more for those like me, those who want to make virtual journeys or trips down memory lane.  But the more you look, the more you can't help but wonder who those faceless people are.
http://memoriesofhollywood.com/redesign2/wp-content/uploads/2015/07/greeting.jpg
757
1144
Bill Hardesty
http://memoriesofhollywood.com/redesign2/wp-content/uploads/2016/09/2016-Logo-02.jpg
Bill Hardesty
2015-07-11 20:38:25
2016-10-08 15:06:41
Humans of the Burke-Gilman