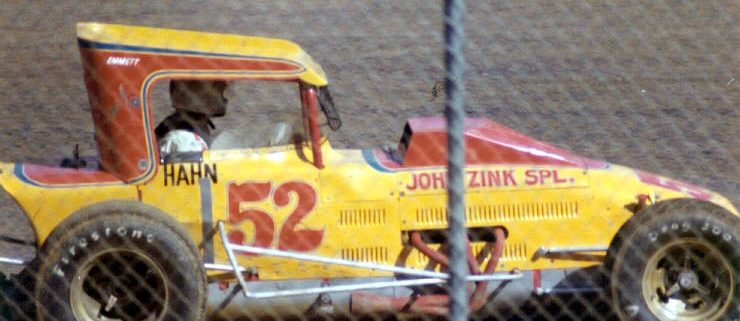 My first introduction to the world of heroes and villains (and their differences) happened when I was about ten years old.  Before the era of California and all those movies.  Well…. there was one movie that helped me kind of crystallize everything.  It was a movie I didn't even like very much until I thought about how the characters were kind of like the people I had been watching every Saturday night in the Spring and Summer, when the weather was warm and muggy.
In those days, back in 1977, 8 and 9, I lived with my Dad and his family in Tulsa, Oklahoma.  Sand Springs, to be exact (this distinction matters to those who grew up on the west side of Tulsa).  I was a kid, who, like all who've been moved around, 'inherited a situation.'  It was scary having to meet these new family members.  Luckily I liked my stepmom right away, but her daughter, not at all.  We'd been dropped into what immediately became a heightened sibling rivalry with a person who, my sisters and I knew even then, wasn't going to ever really get better towards us.  I'd need an escape.
We avoided her the best we could.  In fact, the only time we got along, and were in any way copacetic, was during those  Saturday nights at the Tulsa Speedway.  Race cars and live drama, right there just past the big Oilman statue at the Tulsa Fairgrounds.  Who knew, but in a short time it would become one my favorite things ever, growing up.
I had a casual working knowledge about race car drivers like Richard Petty, everyone did.  He seemed to win the Daytona 500 every year; we'd sometimes listen to races over a transistor radio when we were out on the boat at Lake Keystone.  I'd never been to a race though, and didn't have much interest (they seemed to just be going around in circles and not getting anywhere).
At the beginning of the '77 season my Dad piled us into the old Dodge and we headed out for the short drive on the Turnpike to the Fairgrounds. And all this time I'm being filled with information about different drivers and their crazy crashes and how they raced on dirt.  This family's love of this racetrack was an example of a situation I had inherited, and as such, it turned out to be not bad.
Our first time there we arrived after some of the racing had started.  It was the first race of the 1977 season.  Sitting in the grandstands I could see there was a main track and a smaller one inside it.  On the smaller track were cars I recognized, going round and round.  Well, kind of recognized, they looked like older beat-up versions of NASCAR racers.  It was still light out, just past 5:30, and I was seeing the stock car program.
It seemed all right, and for the first time I actually wanted to listen to my stepsister and some of that background info she had.  The gist I got was that these races were not that interesting and what we were really here for was the cars that ran on the outer track.  And that they were going to look like cars I'd never seen before.
The stock program wrapped up and a couple of trucks came out and sprayed water on the larger 5/8 mile track, driving slowly around.  The sun started to go down, the grandstand lighting flickered to life; still no action but the water trucks, keeping the rich brown dirt oval moist.  Then a gate opened up on the left, at what I was patronizingly informed was called "turn 4."  A parade of strange looking cars came out.  Their wheels were similar to those of Indy cars in that they were sticking out of the car body.  The race cars themselves looked like cages with humps on the back, with weird radiator looking things in front.
The Modified program was beginning (modified from what, I've never known).  These cars not only looked weird, their left front tires were a little smaller than the right front.  They drove slowly together zigzagging left and right, like they all had just realized that something was broken in their steering.  They went around 3 times like this a slow parade, showing off new paint jobs, numbers and sponsor names (all from Kansas, Oklahoma or Texas).  Mickey Thompson, Harold Leep, Junior Taft; my stepmom knew all their names and numbers.
After the third time around a man in the crow's nest waved a green flag and they were off!  They got up to speed on the back straightaway and hit turn 3.  Simultaneously they seemed to be losing control of their cars!  The back of every car slid to the right while their fronts hung on tenuously to the dirt and drove them forward.  Now the weird little front wheel came into play; it danced off and on the surface of the track as the car exited the turn and straightened out.  Every car in turn 4 transformed into a man hanging from a ledge, a true cliffhanger filled with drama.  Gripping, grappling, hanging in there, when they straightened out they floored the gas like a sigh of relief.    Amazing.
My stepmom explained that the little wheel was needed to keep the cars from just spinning out into circles as they slid around.  I also now knew why those water trucks were doing all that work an hour earlier.  This was the world of dirt track racing and it was like no other.
As they sped by in front of me I realized how loud those cars were, but it was a nice kind of loud.  It also smelled like motor oil when they drove by, I could also smell the damp soil they drove on.  They were loud and they went fast and frankly it was love at first sight.
The Modified program ran a few four lap races called 'heats,' winners and losers sorted themselves out into the last two races for them called the 'B Feature' and the 'A Feature.'  The slower qualifying cars in the heats made it to the B, while the fastest got to run in the A.
All the races were competitive, it was great fun; and then they departed.  The excitement in the grandstands ramped up, it was dark out now and the lights were all on.  Another parade began out of turn four, these cars looked newer and were just a little longer than the previous.  The Super Modifieds were a little faster so of course I (and everybody else) liked them a little more.  These racers were the ones I'd get to watch and admire over the next two years.
Terry Doss, Mike Peters, Shane Carson; there were a lot of names to sort out.  All these guys had fans; all the fans had their favorites.  Our family liked a local from Sand Springs who lived nearby in Bixby.  He was a hard charging, hard luck driver by the name of George Armstrong.  Egged on, I watched him with increasing interest.  He made it to the A Feature but didn't win; he placed behind some guy named Ray Crawford and the vaguely European sounding Emmett Hahn.  Emmett led the whole way; this was something that to my dismay I'd see a lot of in the next two years.
I noticed during the races that George was impatient; he couldn't stand being behind any car for any amount of time. It was like the #1 on his car was taunting him to always try to take the lead, no matter the conditions.  Sometimes it worked, usually it didn't, but it sure was fun to watch, and he quickly became my favorite as well as the family's.
We came back every week; we weren't even dissuaded after we saw something horrible. Driver CW Whorton died right in front of us in what looked like a benign looking stock car accident one Saturday afternoon.  The cars are all going around and in the straightaway Whorton lost control and slid to the left.  He was t-boned by another driver – it caved in the car a little.  I saw his helmeted head slump forward; then no movement at all.
"Dad, is he all right?!"
"I don't know son."
It took them awhile to remove him and his car; then the racing resumed.  I heard later that he'd died instantly.  In the next two years I saw plenty more accidents, flips, they were called, that were violent, but no more deaths. I came to look avidly at photos of flips in the following week's Speedway News, always trying to feel what they were feeling at that very moment.
The Speedway News was available to all fans and for just a dollar you could get a recap of all the previous week's action as well as interviews and point standings.  It was my favorite paper, seeing these things in print just gave the proceedings an air of great importance to me; especially getting to see George Armstrong climb excruciatingly slowly up the standings.
After a few Saturdays I became obsessed with the Speedway.  These cars and their drivers had personalities that were distinct.  The cars were extensions of their intent; I had to admit it wasn't just them going around in circles after all.  George was the hero and a real gambler on the track.  Sometimes he won but it seemed usually he drove his car so hard that some part inside would break and he'd slow down and head to the pits.  Or he'd get tangled up with another driver, nothing dirty though, not George.
He'd try the left, try the right, always trying to get around someone, there was a palpable dissatisfaction.
Ray Crawford drove the jet-black #55. His car looked to me like a sporty hearse.  In a race he was eely and would kind of come out of nowhere and slip into the lead.
"Oh look Ray's in the lead, where'd he come from?" Ray was just kind of mysterious.  He was an enigma and a breath of fresh air.
He was quite a skilled driver; he exhibited a lot more patience than George most nights.  He, like everybody there, would have the occasional accident. I'd say he was my second favorite. He'd lead late but lose a lot of close races, often finishing second to the guy that I saw as the track's nemesis; Emmett Hahn.
He seemed to win all the time!  I'd just groan when I saw him in the A Feature because when he took a lead (which was usually early) he rarely ever lost it.  His ketchup and mustard colored John Zink Special #52 was ubiquitous in those days.  We vilified him, which just made George look more like the hero.  I was always glad when I heard he was racing up in Hutchinson or down in Wichita Falls because then my guy would have more of a chance.
One Saturday in '78, I had this revelation, that Emmett reminded me of a character from a movie I'd just seen, "Star Wars" (we were a year late to the mania, it was at the $2 theater).  He was my Darth Vader.  In this little play George became a mutton chopped cigar smoking version of Luke Skywalker, a stretch, I know, but it worked for me.  Ray Crawford, the wild card, kind of fit as the rogue Han Solo.
Plus I heard he'd made the Kessel Run in less than twelve parsecs.
For the first time, but not the last, I could apply a science fiction story directly to my life.
I had fun with it for awhile, but it made me focus on movies more than anything else (for I was already obsessed with the Speedway).  "Star Wars" and the Tulsa Speedway helped engender a love of movies.  I learned there were good guys and bad guys.
I was very impressed with the inherent drama of the racing accident, the flip.  These cars had little cages on the side and front that they called nerf bars.  They should have been called 'nefarious bars' because they seemed to cause a lot of mayhem.
The front one would slip and then dig into the dirt, causing a flip.  Uh-oh!  The side would get caught up in another driver's wheel or nerf bar.  Ooops.  And when these cars flipped they'd go end over end, sometime 6 times or so; gaining speed and momentum.  Just crazy.  Invariably they'd climb out of their distorted racers and wave to the crowd.  They loved their fans and we loved them back.
My stepmom Norma told me that a couple of years before (back when George Armstrong had not only a different sponsor but an '8' on his car, I know, hard to imagine) he had flipped on the back stretch and gone up the wall and through the fence, landing out on the street outside the fairgrounds.  He broke not only his car and also several bones.  That moved my admiration up a notch; even his wrecks were ambitious, over the top.
The Saturday nights when we behaved ourselves we'd sometimes get treated to a trip to the pits, that is, after the Super Modified A Feature wrapped.  It was always hot and crowded and smelled like a gasoline fire.  There were people rushing around in cowboy hats or crowding around the nights' winner.  It was fantastic, like getting to see the stars of a Broadway play up close.  These were the all-stars and my heroes, and George was right at the top.
Obviously as an 11 year old or so I would be a little shy about going up to meet this guy. Unless George won he didn't have that many people around, so he usually wasn't hard to get to.  And he always made himself available, sitting contentedly on his dirt splattered back tire, puffing on a stogie.  He'd stay there until the last racing fans filed out, I know, because they were usually us.  I never wanted to leave the pits.
I'd even bought a cowboy hat at the TG&Y on Charles Page Blvd that was just like his, stuck a little book of matches up front, like his.  I'd have it on every time I went to the pits (it also helped me to be seen, so I wouldn't get run over by people).  Twenty years later kids wanted to be like Mike, in 1978 I wanted to be like George.
But unless my memory has supernova'd around the event, I don't believe I ever went up and said hello to him.  Could it have been so super-cool that I don't remember it, kind of like an amnesiacs' trauma, but in reverse?  I remember being goaded, taunted and made fun of.  I remember having to explain myself to my fellow students at Mark Twain, all of that is crystal clear. I even remember talking to Ray Crawford several times, even while cheekily leaning on his car.  Emmett Hahn I avoided (though he actually looked like a cool guy), for fear of him doing one of those Darth Vader mind things on me.
But when it came to a stammering, or any other kind of introduction, I've got nothing for you when it comes to George, nada, zippo.  And that's too bad, because I'm a believer now that if you ever get the chance you should always say hello to your heroes and tell them what they mean to you.
At home and at school I would draw his Noel Crain owned #1 car, either the blue one or later on the orange one.  Over and over.  And over.  So many times that I could do it for you now (muscle memory?).  So I definitely knew what the car looked like when my friend Lesley rode over one day right before the '79 season and told me he knew where Noel Crain lived.
I immediately grabbed my bike and we were off to this secret location.  We rode a mile or two (everything seemed far in those days) and headed downhill on a little side street.  There was a big fence with a hedge and a gate, like a rich person's house.  I knew they must have been rich because neither Lesley nor I could see that actual house.
There was a spot open near the front gate and we leaned over our handlebars and peered in.  It was a white truck; it said "Snap-On-Tools."  There was something on the back on a hitch.
"It's George's car!" I said, and then hushed.
Yup, there it was- shiny and brand new, George Armstrong's (I could almost make out the painted signature on the top roll bar) #1 race car, the coolest car in the world.  "Looks like they're doing a little work on it," Lesley said, all in the know.  It was brand new, I'd never seen it before and I soaked it all in.  We kept staring, it was ok, there were no people around.  It was great seeing this car in my world, it made me feel extra validated somehow.
We stayed awhile, Les finally pried me away, and we went to the Burger House.  There, while munching on our cheeseburgers, we marinated in the glory of the day.
A month or so later I moved to Hollywood, California, land of the stars.  I met Jane Fonda once and a bunch of other celebrities, I may have been nervous I but never hesitated like I did those nights in that darkened pit area of the Tulsa Speedway.  And moreover, the very year I left (I missed the entire '79 season) George put it all together.
His car must have stayed whole, he must have showed a little patience, and he must have even had a little luck; because he won his first and only points championship at the Tulsa Fairgrounds.  1979 was the magic year. He did it with that brand new maroon car I saw that spring day on that otherwise unremembered street.  How I would love a copy of that last weeks' Speedway News (Anyone? Anyone?).
I'd hear from my Dad in Oklahoma every once in awhile about how everybody (Emmett, Ray and George) was doing, but I lost interest in racing.  The big three raced for several more years.  I think Ray won a championship or two before he hung 'em up.  He became part of what is known as the First Family of Oklahoma Racing, spawning two more generations of drivers, the Crawfords.  To me he's still that slightly mysterious sneaky pro.
Emmett founded the Chili Bowl Nationals (though Ray helped make sure Tulsa was the host), a weeklong annual winter (chili, get it?) convergence of the area's best Sprint Car racers.  He's continued a career of excellence on the track and around it and for me has long since lost his Vaderian rep.  Especially after I grew up and learned that there's a little more to being a villain than just being a winning driver.
George Armstrong, unfortunately, died back in '02.  I heard that it was cancer.  His all out driving style may have extended itself to his penchant for cigars, I don't know.  Like many heroes tend to do, he died too young.  But I'll never forget him sitting there in those pits, waiting patiently for the acclaim that should have come, but never really did.
http://memoriesofhollywood.com/redesign2/wp-content/uploads/2012/11/emmetthahnforum77.jpg
507
740
Bill Hardesty
http://memoriesofhollywood.com/redesign2/wp-content/uploads/2016/09/2016-Logo-02.jpg
Bill Hardesty
2012-11-12 16:24:19
2012-11-12 16:24:19
A Hard-Chargin' Hero