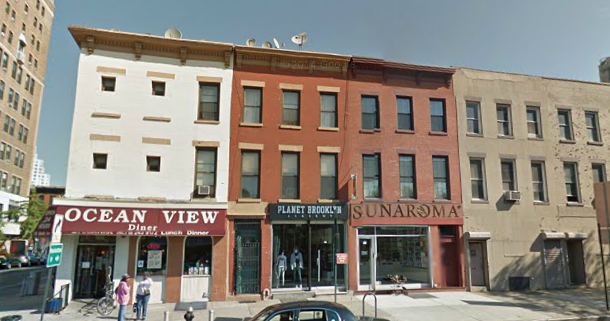 I love those websites that show a picture of an intersection, maybe on a street that's familiar, from a long time ago and then one of now. It reminds me of those drawings I used to look at in magazines, 2 identical cartoon images side by side, the same but with a few differences.  The trick was to pick 10 or 15 or 20 things different from the one image to the other.  Nowadays I especially love these photos if they are of New York, the New York I used to know, and then the one now.
There are Then & Now books, but they never show what I want to see, and from the time I choose. I have very exacting parameters.  I can't find what I'm seeking out on the Internet, at least not yet (there needs to be a website that shows the same street or intersection from every year going back – like a "Streetapedia"); and I can't find it, so I again must lean on my memory.
My first "all-mine" intersection was Atlantic Avenue and 3rd in Brooklyn.  It was December of 1986 when I first became acquainted.  I was visiting, not having any idea that less than a year later I'd move to New York and be living at 517 Atlantic Avenue, 2 floors above where a clothing store called Planet Brooklyn Academy now resides.  Back then there was nothing downstairs but the landlord and barred windows.  That winter I visited it was dreary and cold.
People left their apartments garbed in knee length wool coats and knit caps as they rushed over to the Pacific Street subway station to get to work. You could get newspapers and candy at the old Atlantic Avenue El Station ticket booth located in the middle of the intersection of Atlantic and Flatbush Avenues. The El had been torn down decades before but the booth soldiered on as a 24 hour grab-and-go and news stand.  The structure was 20 years away from being restored to an approximation of its 1910 grandeur ('grandeur' perhaps being a heady word for a 10' X 10' building).  Just beyond, the Atlantic Avenue Subway was also a stop on the LIRR, it looked haphazard in planning and shoddy in execution.  The rail yards and a row of creaky old brownstones sat way behind it.
Going back a block to my intersection, across Atlantic Avenue from 517 was the post office (above which was a mosque), to its right an old non-descript building and to the right of that a weedy vacant lot. Next to the Post Office was a Muslim owned bodega.  Atlantic Avenue had and has a large Muslim contingent; they didn't mix with anyone else on the Avenue.  Then again nobody on Atlantic Avenue ever "hung out."  It was a thoroughfare and that was it.  Across Atlantic from the bodega was a brand new Blockbuster Video.
The weedy lot was the southeast corner of the intersection; it was fenced in and made the whole crossing look bad.  Across the street from the empty lot was a small building painted all black, "Doray Tavern" was written unprofessionally on it.  Next to the name (in quotes) was a written promise, "Where Friends Meet."  It too was more scrawled than painted on.  I may have been drunk at times, but I was never drunk enough to venture in there.
Crossing Atlantic Avenue again (we've traveled 3 of 4 segments clockwise) sat the old YWCA building. It usually looked vacant (though well-kept); and sometimes you could see young women coming out of there, usually with small suitcases or bags holding their belongings.   Next to the YWCA was a Chinese restaurant.  It looked like a lot of Chinese restaurants in New York, too small for dining tables, purely a to-go joint.  It had a picture menu along the top of the ordering counter, warped and very faded from years of fluorescent light exposure.
It also had 2 inches of Plexiglas separating the ordering customer from the proprietor. When you ordered you had to lean in towards the little holes drilled through, then pay (always before they would prepare your order) through that sealed off Plexiglas Lazy Susan type thing; a small revolving door.  All this was in place to prevent robberies; you couldn't even jimmy a small knife in through the revolving food door without letting it go to free your hand.  Keep in mind this was New York of 1986, and all the Chinese eateries I ever visited in Brooklyn in those days had the same setup. Even the Kentucky Fried Chicken on Flatbush Avenue was the same.  I couldn't believe when they started removing all of those transparent defenses from restaurants in the '90's; to me that was the real sign the New York was becoming a safer place to live.
You'd sit and wait and eventually hear a muffled cry from behind the barrier that the food was ready. He or she would staple the top of the bag and put it in the 3-sided  Lazy Susan and turn it, "squeak squeak," you'd hear.  Many times I trudged back across 3rd Avenue to 517 Atlantic, through scorching heat or bitter cold winds, with my beef fried rice (no vegetables) and egg drop soup (if I was really hungry I'd add fried won-tons).  Sometimes I'd turn right to enter the Laundromat next door and wait for my clothes to dry, dousing my food in soy sauce while watching the dryers turn slowly.
One winter night someone had left a big orange futon on the sidewalk in front of the Laundromat for Sanitation; but I got to it first, dragging it up the 3 flights to my shared apartment. It made me itch for a while but it was "my bed," eventually devolving into "my sofa" when I moved into the furnished Pratt dorms early the next year.
The last clockwise leg of the imagined intersection tour brings us to a diner located underneath and to the right of my apartment (I lived not-quite on the corner). The name escapes me now because I only went there a couple of times with my brother and I usually lived on street pizza and ramen noodles.  It seemed to be closed more than it was open and as such only added to the "not much going on-ness" of my home crossing.
One intersection, 4 corners; there was a vacant lot, a seedy tavern, a YWCA, and a (to me) nameless diner. It was a hard place to love but it was my first home in New York, so I had to love it.  Back in the fall of '87, right after I'd moved into 517, there was one thing that not only changed the character of the intersection for me, but made me want to explore Atlantic Avenue.  It was a street fair held on September 27th.
The Atlantic Antic was the name of the fair; they had a booth on Nevins run by the Atlantic Avenue Association. They sold t-shirts that said Atlantic Antic 14 with the date.  I heard them setting up Sunday morning, it woke up my roommates and I; I looked down from our living room window and saw my drab, hard to love intersection transforming itself.   I stayed inside until everything was in place and then ventured out.  It was crazy, it looked like vendors from all over Brooklyn were there, and it was a very diverse gathering.
They had a gay pride parade and food booths with every type of cuisine. There were people selling old records and books and homemade arts and crafts.  Subway musicians came up top to play for strolling gawkers.  .  It was a street fair like any other, but a little bigger, a little more diverse. There was a music stage set up closer to Atlantic and 4th Avenue I started my tour there and worked my way west, seeing how far it all went. I passed Nevins, Bond, and Hoyt Streets.  It went beyond my sight and the street (which was closed off) was now thronged with people.  I had no idea Atlantic Avenue could be such a lively place.  It helped that the weather was warm and nobody was rushing to work on a Sunday.
I passed Smith and Boerum and got to Court Street, where it finally ended. I'd never been this far down the Avenue and I had seen some new things, like a prison as well as a cathedral.  And several antique shops, though several looked shuttered up.  Every other business that was open on Atlantic Avenue had a table out, sampling their wares.  Even real estate agents had tables out with their cards and pictures of neighboring rentals.  The funniest setup I saw was for the old Doray Tavern, they were selling shirts that had a picture of the bar; it even had their slogan "where friends meet" printed underneath.  The career drunks, the denizens of that cave like establishment hung around outside, but no more than a few feet away from the dark safety of the front door and the beer taps.
I bought and ate what I could afford, listened to a little music and headed back to my apartment, feeling refreshed. The next day, heading for the subway and work, I viewed the Avenue in a new light.  For a day, at least, there was a unifying energy to Atlantic Avenue.  It made the place special.
I was at Pratt the next year but I took a walk up Lafayette Avenue to 3rd and my old haunt to see the Antic on the 25th of September.  In later years I moved several times to different Brooklyn neighborhoods but always looked out for Brooklyn's biggest street fair. Usually it happened the last Sunday in September but sometimes the 1st one in October.  It changed a little, getting just a little bigger and denser over the years.  Hundreds of thousands of people would come to take it all in.  If you had the time and could stand the crowding it could easily be an all day affair.
The other 364 days of the year Atlantic Avenue itself was changing pretty quickly. On my intersection they put up a Walgreens in that weedy lot across from my old apartment.  Somebody paid for nice street lamps and trees in the '90's.  The YWCA now has apartments for low-income residents but is about the same as I remembered.  The diner on the northeast corner changed hands and names a few times; I still don't know what it's called.
Doray Tavern is now called Hanks Saloon, it looks about the same but there are now painted flames on the outside, where it used to say "Where Friends Meet." The vibe is still there, dark inside as always.  My Chinese restaurant and its neighbor, the Laundromat, are long gone, replaced by specialty shops.
Down the Avenue, heading west, there are signs of gentrification everywhere, some two story structures were torn down here and there to make larger apartment buildings. There are new anchor businesses now like Brooklyn Tattoo. You'll find carpet warehouses and fancy little eateries as you head closer to the BQE and the river.  Holding down the end of the line (as always) is the Brooklyn Detention Complex, a place that offers surprisingly good views of lower Manhattan from west-facing barred window slits.
In the opposite direction, down by my block, the post office and the mosque remain. The site where the defunct Blockbuster Video sat was torn down and replaced by a slightly larger building.  All the way at the end of Atlantic, where it crosses Flatbush, now sits Barclay Center, home to the Brooklyn Nets, Championship Boxing and numerous concerts.  I have to say, back in the late '80's I never saw that coming!  I still can't believe there is that huge (albeit controversial) venue where one could truly inscribe "where friends meet" (though for a much higher fee).  They even redesigned and remodeled the LIRR station and the Atlantic Avenue Subway, making it much more user friendly.  As it did then, the Williamsburg Bank Building looks down placidly on all the development below.
Back on 3rd, my little residential slice at 517 looks exactly the same as in 1986.
Atlantic Avenue evolved over the years into a permanent approximation of what the Atlantic Antic used to be for just a day out of the year. It's now a little more fun, diverse, a place where you see people walking their dogs or just hanging out.  It's safer; the restaurants, which are much more numerous, don't need to be bullet-proofed anymore. Meanwhile the Antic chugs along annually, vendors set up their tents and tables while the Atlantic Avenue Development Corporation collects donations to keep the Avenue looking better and better.  Whatever they've been doing, it's been working.
http://memoriesofhollywood.com/redesign2/wp-content/uploads/2014/09/517.png
489
610
Bill Hardesty
http://memoriesofhollywood.com/redesign2/wp-content/uploads/2016/09/2016-Logo-02.jpg
Bill Hardesty
2014-09-18 18:37:12
2014-09-18 18:37:12
Atlantic's Antics