I'm still sad.  One week past Labor Day weekend and I'm already jonesing for the next DragonCon.  DragonCon is the best fan-centered large sci-fi and fantasy convention there is.  Spread over 5 hotels in downtown Atlanta, cosplayers, goths, gamers, geeks, writers and watchers converge on the Thursday before Labor Day to stand in a registration line that nobody likes, but everybody seems to tolerate.
The sci-fi fan is a largely non harming human specimen (usually) of average weight and build but with usually poor eyesight.  He or she will stand or sit for hours to catch a glimpse of someone from Babylon 5 or Stargate in a giant hotel ballroom panel.  When standing outside in Atlanta's summer sun they usually take on the odor of old mayonnaise.  The apparent uniformity of the odor has led me to believe it is some kind of nerd survival mechanism designed to ward off heat stroke. By Saturday the smell has been bad enough so that I've only attended one DragonCon parade, after all I can see the same things (dressed up attendees) parade in front of me in the comfort of air conditioned lobbies.
Unappealing as the smells can be, there is another thing that issues from the sci-fi fan.  It's a shared energy of interest, a "we're all in it together" vibe that is frankly quite addictive.  And I have to say I'm already an addictive personality.
I was hooked on DragonCon from the first one I attended 6 years ago and have been back every year since.  Situated as it is, far from the limelight of Southern California (where many panelists live and work), you won't find the incessant Hollywood Studio advertising that plagues San Diego's Comic-Con. Not to mention the out-of-place panels for things like Law & Order.
This Con is for the type of people who groove to original SyFy channel programming, who follow in great detail the plot twists of shows like Warehouse 13 and Dominion.  They stand in those long lines because they care about the characters in these shows and want to hear what the actors have to say.  To be honest I care too, but I'm more into Star Trek panels and the Alternate History Track.  Every once in a while (just to keep things fresh) I'll drop in on something I have no interest in or knowledge about, like Dr. Who.
I did that last week, sat there on the carpet of the hallway by the Sheraton Grand Ballroom and fielded the occasional question by Who fans.  The people I talked to asked me who my favorite Doctor Who was, and resisting the urge to answer "Pete Townsend," I answered truthfully:
"Yeah, I've only seen like one or two episodes, I'm here on recon (or Con recon)."  Every one of them looked at me like I was cancer.  But then they, like all DragonCon attendees I've encountered, recovered quickly and were friendly.  Like I said, the people are non-harming.
Every year attendance to the Con climbs.  There's something oddly compelling about being in the middle of a barely moving crush of people.  And every year it seems more likely some disaster is about to happen, especially when people are queued up in front of the sky bridge going between the Hyatt and the Marriott.  Because of this I've learned to go into survival mode, I bring a messenger bag full of bottled water and Ziploc bags of trail mix and Cheez-Its.  I bring along phone, Kindle and camera chargers and a backup battery to re-up all three.  In the old days I used to sit along hotel hallways plugged into wall jacks for 15 minute spurts; but I'd like to think I've evolved into a more self-contained attendee.
I don't dress up, I'm a watcher; and what I see is never boring.  Up and down and in and out of the Hyatt, Sheraton, Marriott, Hilton and Westin I have trudged.  Packed in with costumed and regular fans, through sun and torrential rain I nervously nibble on my trail mix, sometimes trapped standing up and not sure when my next meal might come; or more importantly, whether I will make it to my next scheduled event.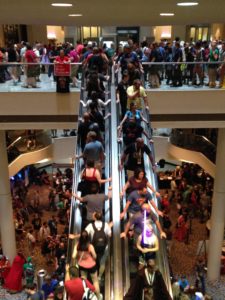 We may all disperse to different panels but we seem to share a common purpose.  I know that because when the scheduled panel hour is over we reconvene in the lobbies, halls and skyways to pose, share stories and take pictures before rushing (incrementally) over to the next panel or event.  It's addictive energy that bounces off the walls of the hotels that a few days hence will completely lose their context for me, for us all.
When the last panel is over about 4pm on Labor Day it's a sad sight.  I'm always really tired from the days of hyperactivity and lack of sleep but I'm never ready for the circus to just pack up and leave like it does.  I mourn, I miss all those nerds, and nothing is sadder than seeing them back in street clothes and putting their luggage into airport taxis.
DragonCon volunteers pick up the signage; while robot engineers dismantle their Robot Battle survivors over at the Regency Ballroom and get in the hotel check-out line.  The Walk of Fame empties for the last time: "See you next year Erin Gray and Lou Ferrigno."
Why do they all leave me like this?
Finally, by 5 pm, I get in line at the last still-open DragonCon Store and buy tickets for next year's convention.  After that the hotels are really empty, waiting for some other convention (god knows what) that people are probably really excited about (god knows why).  Not to sound harsh here; but the Hyatt, Sheraton, Marriott, Hilton and Westin become dead to me after that.  I go home and decompress, knowing I'll be alright by later the next day.
Well a week has now passed and I'm counting down for the next one, wondering who'll be there while (every once in a while) opening up the DragonCon app on my phone and letting it update, as if something is still going on over there in downtown Atlanta.  Next year will be the best one yet.
http://memoriesofhollywood.com/redesign2/wp-content/uploads/2014/09/IMG_4734.jpg
3000
4000
Bill Hardesty
http://memoriesofhollywood.com/redesign2/wp-content/uploads/2016/09/2016-Logo-02.jpg
Bill Hardesty
2014-09-07 16:03:07
2014-09-07 16:03:07
Don't Leave Me like This