How long does it take someone to truly absorb their adopted home?  A few months, several years, perhaps immediately?  It's easy to move to a place you like, to know you'll eventually bond to it; so what is with that weird period of denial, of having to get used to?  Maybe it's missing the old place, and maybe that's true for some, but in my case it was just good old healthy cynicism.
By the beginning of 2001 I had been in Seattle a little over a year.  Though I was amused by the story of a few local wisenheimers paddling out to place Kubrickian monoliths on Duck Island early on New Year's Day; my thoughts usually turned elsewhere.  I really missed New York; and it showed too.  I'd remind anyone who would listen that the Mariners weren't as good as the Yankees, the transit system was terrible, the skyscrapers weren't tall enough; and even those so-called "anarchists" of the WTO protests….well those guys were wimps compared to New York tough guys.
"Hey and I should know," I'd posture, "I'm freakin' from New York!"
It's a wonder I had any friends, but oddly, I was making them at a pretty good rate and had been since I'd decamped from my U-Haul a couple of Octobers ago.  I'd found Seattle people, from the outset, to be friendly and somewhat fascinated by those from "Back East."
It wasn't that I regretted being in Seattle, far from it; it was great.  It just didn't feel like home.  Not yet. Riding my bicycle back and forth to my job at PCC I was a little isolated, withdrawn.  I usually dined alone, went to the movies….  well, you get the picture.
One day at the end of January I was riding home on my bike from Bally's on Aurora Avenue when the Nisqually Earthquake struck.  I didn't really feel it but I did see the telephone poles swaying back and forth, almost in unison.  I got home and closed all my kitchen cabinets (nothing had fallen out) and considered that maybe I'd had my first Seattle shared experience.  Maybe that was what I needed.  I could show up for my closing shift at Greenlake that night and share stories about where we were when it hit.  I could spare my coworkers stories about early 90's crime in New York or the time I saw a lady get an entire pizza stolen out of her hands on a Brooklyn sidewalk.
And that's just what I did.  Luckily the scores of bottles of broken wine had been cleaned up by the time I got there.  Reliving the experience was pretty cool; it felt good, like I belonged.  I decided I would explore a little bit more, widen the geographic arcs.  Over a year "Out West" and all I had was my bike and the 5 bus to downtown.  That was about it.  Maybe I should buy a car.
That would be a big deal, because the only other car I owned was a rusty beater I'd bought off an old man in Miami back in the '80's.  In the following weeks I resolved to pay closer attention to car commercials, I compiled a little data but based solely on the volume of television advertising, I settled on a 2001 Ford Focus.
I got on the 358 north on Aurora Avenue, called the Vomit Comet by locals because of its beeline shuttlings back and forth between the booze and pulltabs in the bars of Snohomish County and the seedier bars in downtown Seattle.  My destination was Bill Pierre Ford, where I'd decided to test drive a car but not be "taken for a ride."
The salesman did his thing, I eyed him suspiciously.  He knew I liked the Focus sedan, and started offering packages.  Seeing this as a sign of manipulation, I said no to every single package, every single extra, some to his surprise.  This is how two weeks later (my special car was hard to find), a little old lady, a relative of the salesman, drove my car carefully out from Coeur d' Alene, Idaho.  The next morning my new car, without power locks or power windows, showed up in my apartment parking lot.
The car was delivered to me one Saturday morning in April.  That night I hit the road; north on I-5, east on 2 across towards Stevens Pass, north on Route 9, then east again on 92 to a snowbound Granite Falls.  In the dark it looked like a picturesque little Bavarian village, all quiet and glistening in the headlights.  Seeing snow in a town just after leaving 60 degree Seattle struck me, I guess, the same way many 18 and 19 year old Americans are struck when they realize one day they can just get up and leave.  Except I was, like the temperature in Granite Falls that night, in my 30's.
My no-frills car didn't even have a CD player.  But it did have a radio and a cassette player.  I started mapping out long drives on my days off and listening to Mariners games on KIRO 710 AM.  It wasn't the Yankees, but the Mariners were not bad, they were, I thought, almost like a real professional team.   Everybody wondered how they'd possibly get by without Alex Rodriguez.  So, a routine quickly developed.  I'd get in my car, one day driving north to BC, another south through Olympia to Portland, and on other days even putting the car on ferry boats to head west to the Peninsula for an eventual drive down Deception Pass.  Almost everywhere I went I heard Dave Niehaus call play by play on what was quickly turning out to be a season of almost surreal success.
Whether getting off the M/V Walla Walla Ferry at Kingston or driving through stately stands of swaying pine in Snohomish Forest, Dave's voice rang out the details of win after win after win for the Mariners.  It looked like the M's were for real.  I mean, it wasn't like I liked them or anything, nope, I was always gonna be a Yankees fan.  But when you see different places for the first time, as I was continually doing, the accompanying sights and sounds just stick in your head a long time.  That's how it was for me.
I was extending my range and getting to know my way around.  That I often did so in isolation didn't really matter, for I was identifying with my adopted home, my new home.  I felt like I was a little more in context with the place.  That mattered, that and my discovery of "beyond-bus-route" restaurants.
It turned out to be an amazing summer, like a long meditation.  There was never anything troubling happening in the world, this was a feeling many Seattleites could tell you they have from being so far from the rest of the country.  I remember day after day of cloudless skies (it's like that there in the summer you know) and Mariners announcers describing the "Boonie Bat Flip" after another one of Brett Boone's home runs.  From Dave I learned how to get out the rye bread and mustard for grandma as well as the definition of a Golden Sombrero.  And new outfielder Ichiro Suzuki was a revelation.  It was just me and them driving along, getting lost in relative silence.
Even the All-Star game that year was a showcase for the Emerald City.  On July 10th an AL team studded with Mariners took the field and beat the National Leaguers.  Cal Ripken, Jr hit a home run and won the MVP; the M's magic of 2001 extended through all of baseball for that day.  I wasn't there though, I was probably driving around the city or at Books & Books, browsing.
I can't even count the times times when the Mariners were out of a game and came back somehow to win.  They seemed inevitable at times, finally rolling up a record breaking 116 game winning season.  I rooted for them to win in the regular season, how could anybody not?  The city I was finally warming up to was getting a winner at the same time, and Seattle really deserved it.  Mariners fans, though not fiercely competitive, are quite fiercely loyal.
By September I would rarely speak about New York to my friends at PCC, it was either the Ice Caves at Big Four ("Yeah I just went there!") or detailing a winding journey on the Chuckanut Drive.  Sometimes they would tell me that Mariners first baseman John Olerud or Bill Nye (the Science Guy) had been in shopping and I had missed them yet again.   I was going out a little more to different restaurants, able to meet people at small theater shows in Capitol Hill.  It was great, I was letting the past go, I let myself think of myself as a real Seattleite.  My friends seemed to accept me as one too.
I knew by then I would never leave this place.  This is the kind of peace I'd come for back in 1998 when I'd first visited.
I (like everyone else) was snapped out of my pleasant little spell when history intruded a few days later into September and then suddenly everybody was talking about New York.  My new friends were so nice and supportive, asking if everybody got out of downtown OK.  I took that day off and boarded the completely silent M/V Tacoma headed out to Vashon Island.  On the deck of the boat I could see everybody wanted to talk but just didn't know what to say.  We just glanced at each other. The ferry churned through the black bay – screaming ash covered people seemed so far away out in sunny scrubbed-clean Seattle.  Though it was the worst day for New York, my former home, these impressions stuck with me, further imprinting me on the Pacific Northwest.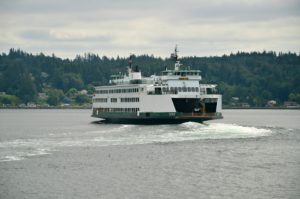 In the following days people resumed their routines, I went on a silent retreat in southern Washington and by the time I drove home my new car had 2000 miles on it and the planes were all flying again.  Baseball resumed and the Mariners kept winning, astonishing everyone with their resolve – all the way to the playoffs.
Then they met the Yankees.
And that was it, 116 wins meant nothing, except maybe to someone like me; someone who got to know Dave Niehaus, the Mariners and the wonderful city of Seattle.  By 2002 I definitely considered myself a local.  I mean OK, yeah I used to live in New York, and I missed it and everything, but I'd finally warmed up to this only occasionally warm place.  And every year I resolved to never leave.  And then a few years later I did.
But 8 years after going back east to another new city, I've still yet to branch out and explore, to settle in, to maybe become an "Atlantian" as I was once a "Seattleite." It even took me until 2015 to get rid of the car I bought out there, it had become (like me) a little faded but still running fine.  Even with a second new car I still hold to the other place.  I keep up with my old friends and I read the PI and I even listen to the occasional Mariners game.  The fact is, you can only really live in one place at a time and I guess I'm still not really ready to let Seattle go.
http://memoriesofhollywood.com/redesign2/wp-content/uploads/2015/07/Ferry.jpg
1861
2809
Bill Hardesty
http://memoriesofhollywood.com/redesign2/wp-content/uploads/2016/09/2016-Logo-02.jpg
Bill Hardesty
2015-07-08 21:23:22
2015-07-08 21:23:22
Going Seattle