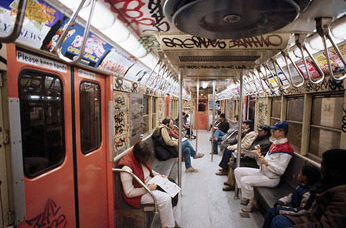 Twenty-Five years ago today was a day I'd been looking forward to for a long time and was the most exciting day (even though I knew exactly what was going to happen) of my life.  It was the day I traded the sour, hot air and bug spray smell of my family's south Miami Beach apartment for that of hot dust and hardwood floors; and freedom: in Brooklyn, New York.
June 20th, 1987 was a day I had spent months preparing for.  I had even gotten a job at Fedco on 71st street to save as much money as I could for the coming adventure.  It never even bothered me that I was saddled with a (very flammable looking) blue plastic Fedco apron and that I had to stock Excedrin and Kedem Juice for my manager, Mario.  Because I had a goal.  It was a goal I got myself even more ramped up for sitting in my car across from Fedco at the Montessori School, sometimes for 2 hours before my shift started.
I'd sit in the heat with a bag of New York Deli chips, munching on them while I pored over the day's New York Times (Florida Edition) in minutiae.   For I had become obsessed with everything New York.  I needed to be ready.  I looked at the stock news and the crazy-expensive real estate ads for Upper West Side apartments.  I knew that New York mayor Ed Koch was having a little problem with Bess Myerson and that the New York Mets were looking to repeat as World Champions.  I even knew about the years long improvement project on the BQE.
I knew what the weather was going to be every day (though I'd probably not even know if a hurricane was headed to Miami) in the Five Boroughs and imagined myself there basking in it.  The best times of my day were sitting in that '76 Cutlass Salon and dreaming.  I had gotten this way the previous December when my sister Mary and I visited New York for the first time ever, to see our brother Luis.
It was cold and dark there and I had to borrow my brother's coat.  He took us on a whirlwind tour; we visited the museums, the Intrepid, and posed for photos on top of the World Trade Center.  I couldn't believe everything I was seeing, it was like the City itself was a museum, a collection of all the most important things and people in the world.  I was particularly interested in the Subway and how you could disappear there for a bit and emerge in a completely new world, every time.
Some of the best times were when my brother was at work and Mary and I would venture out of the apartment, first just across Atlantic Avenue, then on longer trips.  I felt a need to explore that I had never experienced before.
Toward the end of my two weeks there I got an idea that I should maybe come back here by myself.  It was fun hanging out with Mary but maybe this place could be mine, all mine.  Perhaps I could even live here.  That was how the obsession (which was lifelong really) was born.
When The Day finally arrived my mom and Mary drove me to Miami International Airport.  I was very alert, noticing everything as I carried my trunk and my art portfolio.  I was going to New York ostensibly to move out, to grow up, to go to college and start a career.  But I didn't ever really care about all that, I just wanted to live in the moment and experience the unfolding newness of this international city, where it seemed everybody else was also in a hurry to do the same.  While I waited for the plane my sister got sad and gave me a cross on a necklace and told me to be careful.  That made me sad too because usually we were just mean to each other.  I felt that she was really going to miss me, and I her.
By the time that American Airlines flight touched down at LaGuardia all nostalgia and memory was gone and I was pointed forward.  It was Saturday and my brother was waiting for me at the terminal.  We took a yellow cab to his apartment in Boerum Hill Brooklyn, on a street filled with brownstones and lamps that still needed gas to stay alight.  His building was almost the newest on the street, built in 1917, but was by far the oldest place I'd ever lived in.
All of the trees that were bare the previous December were now filled in with leaves; there was also light everywhere.  It smelled warm and hazy and welcoming outside too.  I could hear the traffic on Atlantic Avenue.
We opened the door, I sat my stuff down in his living room and we turned around immediately and left, headed for the subway.  The Pacific Street stop on the N Train was our home station.  We walked past the (19th Century constructed) Church of the Redeemer (though not religious I was happy that Brooklyn was so full of churches, it just made everything seem – older) on 4th and Pacific. I noticed at the subway entrance itself some of the stones comprising the foundation of the building were askew, as if turned that way by the BMT line's construction.  I loved looking at those disturbed old stones every time I came in or out, in the coming months, and thinking that nothing could stand in the way of the City's progress, not even God.
The City itself had become a living thing, doing what it wanted, and I, like the other 8 million, was just along for the ride.
We exited the train at the Court Street stop.  A few steps down the sidewalk, heading toward Montague, I reveled in the blast of hot air that came up to me, heralding the departure of another train below.  I always welcomed that, and though everybody told me that subway air stank, I loved it and even noticed the differences between the air in the Brooklyn stations (like old oily wood) and that of the Manhattan IND line stations (more metallic and a little plasticy).  We headed to a pizza place my brother favored, right across from Innovative Audio (another place my bro favored).
And it was there I had my first meal as a brand new resident of the City of New York, appropriately enough a greasy slice of pepperoni that I folded in half to eat, watching the oil drip down on its paper plate.  After we ate we headed to a bookstore across Montague so Luis could pick up that month's Omni magazine and a new Gregory Benford novel (that summer I grew to love sci-fi too).
That day I was elated in a way that had no room for worry or concern, for plans or regrets (regrets? how could there be any of those?).  This lasted for a long time that year, longer than I could have guessed.  I'd get up in the morning before sunrise, so excited to just do stuff.  I'd sit and watch the sun slant in through the window on the featureless whitewashed sidewall of the neighboring brownstone a mere 3 feet away.
Every time I looked at the wall I reveled (though my brother definitely didn't) in the fact that nothing stood in the way of the City's construction plans, not even a nice view from a Brooklyn apartment.
Luis and I explored in the coming days, my enthusiasm not dimming even an iota.  I was so full of the energy of discovery that I started to sleep walk, babbling nonsense and intruding in on my night owl brother while he watched TV.  I then started to go out on my own, even late at night.
I'd sit on the train late at night heading under the East River, studying the subway map as if I had a quiz the next day, fearless.  I'd emerge at any random station, at any time of day or night and just walk around, copy of the Village Voice usually in hand.
Upper East Side, Murray Hill, Chinatown; I particularly liked Lexington Avenue uptown and the Financial District downtown; they seemed abandoned at night and reserved for me.
For a dollar (the subway fare then) I could go anywhere in the world.
For a few dollars more I could also get my hair cut at Astor Place or a grilled cheese at Cozy Soup & Burger (both open late); I was truly on my own.
Sometimes it was so late I found myself all alone in a car and I'd read every single ad on the train, from abortion clinics to cigarette ads.  When alone I felt like I was riding in a train-limo.
I kept up on the news in my preferred paper, the Daily News (my brother called it the 'dead baby daily' and shunned it like his personal Kryptonite).  I read about some bad things that happened in the City, like the Joel Steinberg case, or Mob hits, but it never affected me.  I saw weird things on the trains too, like one night a guy lightly stabbing another in the head with a screwdriver, or other guys whacking off (different nights).  That never affected me either; I only noticed the good news, the classical concerts in Central Park, Museum openings, good weather and sports highlights from the baseball teams.
I loved to hang out in magazine stands (in one of which I ran into Ric Ocasek three or four times) and at Tower Records on Broadway and 4th in the Village.  I saw a lot of music there from bands I'd never heard of at Peaches or Specs back in Miami.
One day in July I saw a cover for a new release that appealed to me (that year I'd introduce myself to new bands just through appealing cover art).  It was from a band I'd never heard of but one that Tower seemed plenty excited about.  They had rows of CD's in the front room by the registers (next to new releases by Roger Waters and Laura Branigan).  But also, on the way downstairs (the cassette tape level) there was a 3′ by 3′ cardboard reproduction of the same cover I noticed on the way in.  The cover depicted a handshake between a suited business type (that I visualized as my brother) and a scruffily sleeved probably younger guy (that I visualized as myself).  I headed downstairs.
I bought a cassette and popped it into my empty Walkman.  The first song, "I.O.U." came on and I was immediately hooked by the ragged guitar and the drunken sounding scratchy vocals.  This music had a lot of reckless energy and though the band, The Replacements, was from Minneapolis, it sounded to me like my own personal New York soundtrack.
I played the crap out of that tape, and Paul Westerberg became to me a kind of iconic figure.
I also loved the band because Luis had never heard of them either and I could (like my ownership of New York itself) have something that was raw and new and all my own.  As his little brother I saw myself (and he did too) as belonging to a newer generation.
I bought a lot of new music as autumn approached and found another soundtrack for myself, the quirky album "Huevos" by The Meat Puppets (another band my bro hadn't heard of).  It had gotten cooler outside and Luis gave me the coat he had loaned me on that long ago day (era) when my sister and I had visited the previous December.  I put away for the season the black trench coat I had purchased at Canal Jeans for only $10.
At the end of September, near the end of my time on State Street, we watched the premiere of a highly anticipated show that my brother was nonetheless VERY skeptical about, "Star Trek: The Next Generation."  We liked it immediately and would convene every week, even after I moved out (around the block) for new episodes (it was a relief to see something other than the Ollie North proceedings).  When I did move out in October my metaphorical branching out had become literal, and despite my constantly focusing on the moment I guessed I was growing up a little bit anyway.
I continued exploring, loving the changing color of the leaves (never seen in Miami) and even found excitement (though others obviously didn't) when the Stock Market crashed on Monday the 19thof October.  After that day people seemed to rush around even faster downtown.
The Pacific Street Station was still my home station and I luckily got to keep seeing the slowly crumbling base of the Church of the Redeemer on a daily basis, while I constantly marveled at my good fortune.  And this time my own room, the share I had rented, had a partially blocked view of a courtyard, and not just a flat wall.
But I found I kind of missed that two-dimensional view from my brother's.  And that was really the beginning moment of my New York nostalgia.  But it was also the end of my purely living in the moment.
http://memoriesofhollywood.com/redesign2/wp-content/uploads/2012/06/Picture-4.png
228
346
Bill Hardesty
http://memoriesofhollywood.com/redesign2/wp-content/uploads/2016/09/2016-Logo-02.jpg
Bill Hardesty
2012-06-19 22:22:37
2012-06-19 22:22:37
June 20, 1987