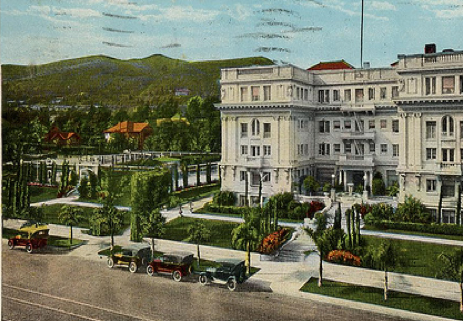 When the Oscar's come around I always think about how different that area used to be when I lived there.  The Kodak Theater is the site of the Oscar Awards and has been for 10 or so years.   A visit back there 3 years ago was surprising for me because the only thing I remembered was the Chinese Theater (the core of which is largely the same).
It's become a hoary cliché that New York tears itself down continually, disrespectful of its past (i.e. Penn Station), but this 2-block segment in Hollywood did the same thing; in this case maybe it was a good idea.
Back in '09, walking on the north side of Hollywood Boulevard, west just past Highland, I expected to find an old 60's looking bank mid-rise, a parking lot and then the Chinese Twin Theaters (never my favorite).  This is where the Kodak Theater (and a Hard Rock Café) is now; the rest of the area going back to Highland is a labyrinth like series of shops above a subway station.  I didn't explore the Highland Building but it looked like a lot of business compressed into a little area.
Walking just past the Chinese I thought I'd see another parking lot, but now there's a Madame Tussauds Wax Museum (wow, that's 2 wax museums on the same street).  The Chinese Theater used to dominate (in a good way) a pretty crappy looking segment of Hollywood Boulevard.  So, though it looks overgrown and a little out of character for what the Boulevard has always been historically; it's great for the floods of tourists who come in.
I can tell you it's better than being a kid and rushing past the seedy looking little shops to get to the Chinese.  But far from dominating the scene now, the old theater looks like it's barely holding it's own up there.  I was surprised to see the Chinese Twins torn down; they were only built in the 70's.  Now there is a compromise trio of small theaters (or is it 6?!) somewhere upstairs around the Kodak Theater, I passed them walking through there (it added to my disorientation because I KNEW the other Chinese theaters were not located upstairs back in 1980).
Heading even further west on the same side of the street, I knew I wouldn't find the Garden Court Apartments there anymore.  But an LA Fitness?  Well, at least people were doing healthier things on that site in 2009 than they were back in 1981, when my sister Laura and I snuck into the decrepit (rumor had it, haunted), derelict Garden Court Apartments.
This place was built around 1919 and was one of the premiere apartment buildings in California.  The lobby had teak and mahogany paneling and they even had a below-street-level pool.  It was a destination of those wannabee stars (those lucky enough to live there) who migrated to Hollywood in the 1st half of the twentieth.  Tom Mix and Marilyn Monroe were only two of the former residents; I'd heard Cary Grant lived there too.  When actors became famous enough they moved out of places like this  (nice as they were) and headed further west or right up the hills.
Over the decades the building started to lose its luster, then fell into such disrepair and misuse that by the 70's it had earned the nickname "Hotel Hell." The last paying tenants were members of LA's thriving Punk scene.  Finally it officially closed down and they put up a fence around it.  And that's how it looked by the early 80's, when I knew it.
What drew Laura and I to that boarded up joint late one night wasn't a thirst for nostalgia, but a hunt for a ghost.  School kids back then all believed that some tragic "Hollywood Babylon" type death or deaths had happened there and we wanted to scope it out.  We brought a flashlight and headed into the lobby.  There was a partially collapsed stairway so we couldn't go upstairs.  The elevator shaft was just that, no car, so we were confined to the lobby and had to poke around in that one (a little creepy) room.  We had no idea but this place was a real squatters haven up until 1984, when it was finally torn down (right after getting an honorable mention on the National Register of Historic Places, kind of an insult, don't you think?).
We could have run into some dude cooking coke in a spoon that night or a couple of hobos dueling over a bottle of schnapps and that would have scared us worse than any ghost.  Lucky for us there were no run-ins though. There also wasn't anything of value to loot from there; so after Laura almost became a ghost herself (slipping near the yawning elevator shaft) we left that place empty handed.
Getting back to the Boulevard we didn't know it then but we had just exited a real focal point of Hollywood's history (maybe we wouldn't have felt so dejected, walking back to the Lido).  Learning a little bit more about the place in later years I wish they'd tried to save it.  The Garden Court would work there nowadays, restored, with noir-ish apartments and Hollywood beds.
You could stay there and walk a few steps to a Starbucks, located where one Chinese Theater parking lot was (the part with no Stars on the sidewalk and a sloping curb, these days futilely inviting cars to come in and park), or head a little further on and see a movie.  They could have turned it into a hotel, with plaques on the doors listing all of the famous people who stayed in those rooms. And if you really needed an LA Fitness you could probably find one on Sunset, I mean it's called LA Fitness after all.
As for the Kodak Theater and all that stuff on the east side of the Chinese Theater; great, it revitalized the neighborhood and brought more people in.  With all of the decline going on with Hollywood Boulevard's theaters in general in the early 80's this had to be a good thing.  For all anyone knows the new construction may have saved the Chinese itself.  And, it's a magnet on Oscars Night, bringing the awards back to the Boulevard, where they belong.
But it's too bad the Garden Court Apartments are now gone, that was a piece of Hollywood's past that would have stayed relevant to anyone and especially to all the tourists getting off buses and snapping photos.  I still wish I'd taken a few photos myself, that night back in '81.
http://memoriesofhollywood.com/redesign2/wp-content/uploads/2012/02/Screen-shot-2012-02-26-at-2.03.07-PM.png
339
463
Bill Hardesty
http://memoriesofhollywood.com/redesign2/wp-content/uploads/2016/09/2016-Logo-02.jpg
Bill Hardesty
2012-02-26 16:52:06
2012-02-26 16:52:06
Oscars Site