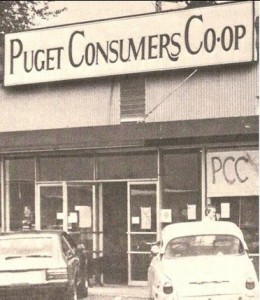 Puget Consumers Co-op, or PCC, is a natural foods retailer located in and around the Seattle area.  Like its feisty neighbor Starbucks, it is a source of either local pride or embarrassment; depending on who you ask and when.  If you ask me, I'd say it's a thing to be proud of; after all, it's now the largest natural foods co-op in the country.
It started in the early1950s as a pure cooperative, running out of a garage and serving 15 families.  The co-op moved to a permanent storefront, then expanded. It changed and grew and splintered off from itself (to offer only natural foods) in the following years.  It added new stores and many members through the 80's and 90's.  During this time you had to buy a membership to shop.

By the time I arrived at the Greenlake store in late 1999, there were 7 stores and, I quickly found, a whole lot of drama.  November 1999 was a big month for the Natural Foods business in Seattle.  PCC had owned the town for years and though it had grown, it was still very much a niche, and widely viewed as the provenance of Seattle's hippies.
I walked to work my first day that month, and the people I met were all very nice, but they looked worried.  They worried about both Y2K (definitely not helped by several hysterical customers) and the arrival for the first time that month of a national phenomenon, Whole Foods Market.
Several employees, from Courtesy Clerks (baggers and runners) to PICs (Person in Charge – supervisors) all the way to Associate Store Directors (assistant managers) were sure that Whole Foods opening at NE 65th St and Roosevelt Way (in between 3 PCCs) spelled certain doom.  While the co-op waited for the hammer to drop, they geared up for another busy Thanksgiving and prepared for the opening that same month of a new store in Issaquah, about 20 miles east of Seattle, across Lake Washington.
It felt like PCC was opening its own safe house, just in case big bad Whole Foods got mad and ruled that PCC must leave the city of Seattle altogether.
The staff talked to each other a lot about these things, whispering their worrisome, foreboding conjecture about PCC's survivability. When not doing this, they talked about the upcoming WTO Conference downtown and debated whether to protest or not.  The crazy events of the WTO protests turned out to be but a temporary distraction.
When these topics were exhausted, PCCs Old Guard (as I came to think of long term staff members) turned to their favorite subject, about how PCC was "not a co-op anymore."  They were years-long employees, very knowledgeable about natural foods.  Some, eschewing conventional beauty care trends, were un-deodorized, while other ones grew their graying hair long.
Several of them were still pissed that they had been forced to wear aprons with name tags not long before.  Everything (like the aprons) put upon them by management was really a sign of their own diminishing autonomy.  This would be carefully explained to a newbie like me followed by the comment, "See, we're just not a co-op anymore."
Employees talked a lot because there seemed to be a lack of communication coming from the top.  PCC had a Board of Directors that was elected by members of the co-op, but its pronouncements, when they came, were regarded as inscrutable.  If you believed the Old Guard, PCCs CEO Jeff Voltz seemed to be reacting to events beyond his control.  When Store Directors (managers) returned from the Co-op office after meetings, they were quiet, furtive.  PCCs staff gossiped excessively because of this information disconnect.  They decided to waive the membership requirement, then they didn't.  Then they changed the Member Discount, then not.  Then they moved it to a different day….
Lack of communication and/or the issuing of "edicts" (as the Old Guard called them) created an "us versus them" feeling that in some ways continues to this day.  As to the notion of corporate secrecy, I often wondered, "Do I work for the State Department or for a place that sells food?"  Sometimes I really couldn't tell.   All the while the stores lost money and then made money, kind of a rudderless business model.
The year I arrived at PCC the Board was trying to decide how to compete with Whole Foods.  The Roosevelt beachhead was certainly the first arrival of an army of Whole Foods Team Members (employees) and Team Leaders (management).  Somewhere along the line the co-op decided it had to try to co-exist, for it knew it couldn't drive WFM out like it had done to Alfalfa's a few years before.
Though we were all spared the ignominy of being hurtled back to the Victorian Age by Y2K, 2000 was not a good year for the PCC.  The Co-op was hemorrhaging money and the PCC man on the street, both staff and customers, never knew why.  The Star Chamber (the PCC Board) met late in the year and decided to oust Jeff Voltz as CEO, but nobody knew this yet either.  Talks were confidential, kept even from the Seattle Times.
One day in mid-January we all came to work to find a typewritten statement in our lockers.  It was by Voltz, five paragraphs of background and a very strange explanation of why he was no longer CEO of PCC.  The gist was that the board had lost faith in him but that he was really a good guy who meant well.  He had no idea how this had happened but he would be OK, he wanted us all to know that.  I often wondered who he enlisted to drop off these hundreds of copies of his missive to all 8 stores.  I pictured them driving through the drizzle of Puget Sound's convergence zone with their heads held up, damply defiant.
That same week, PCC's oldest remaining store, Ravenna, closed for good.  For Ravenna, the Whole Foods doomsday prediction had come to pass (it was located nearly across the street from the new store).  It held out as long as it could but next to Whole Foods, it was small and old and tired.  The staff, as well as much of the merchandise, spread out to other stores while some of us PCCers combed over the remains of the bulk department.
Our Store Director wouldn't talk about any of it.  Store Directors generally kept most information as privileged.  That only fed the rumor mill, "Jeff Voltz did this, or he was suffering from that." As to his demise, initially the Old Guard rejoiced, that is, until they saw who his replacement was.  The new CEO came from 20 years of management for a conventional grocer, Kroger or Von's, one of those (and now we were all saying "see, now we're no longer a co-op.").  He was a Hawaiian shirt wearing glad-handler who turned out to be a real bully at Store Director meetings.  He often made surprise visits to our stores in his cargo shorts and wearing a hemp ankle bracelet he repeatedly told us was made by his granddaughter. He'd greet us all warmly and then usually go back to the office and chew out the Store Director.
To add to all of this, we were all (except for SDs and ASDs) in the Union, and every few years when negotiations came up, the "us and them" divide became very sharp, with Union Stewards (each store had one) and Store Directors not even on speaking terms (that happened in my store).  And every time negotiations nearly fell through, they would somehow be rescued in the 11th hour.  It was miraculous, it happened that way every time as PCC tried to play hard ball with its employees.   From what I could see, the results, every time, were that PCC staff got a little less and management became even more powerful.  Our new "corporate" CEO was always blamed for this.  Though he presided over PCCs greatest period of growth he was largely distrusted and feared.
Part of that was because PCC had finally decided to make itself over, appearance-wise at least, as a Whole Foods clone.  Out went the Mercantile Dept., where you could buy natural fiber hippie-looking flowing garments and sandals.  The delis were beefed up (so to speak) to compete with the exciting array offered at Whole Foods.
Right around my 4 year mark with the Co-op there was a logo change and an effort to modernize existing facilities.  Experience had taught me that the Old Guard's grousing neither deepened nor lessened.  To many of them, the worst had indeed already happened; PCC, instead of being conquered by Whole Foods- now looked new (Oh no!) and slick (God no!).  It had become Whole Foods.  The staff now made comments about conformity and wry observations about Borg assimilation.  Some of the "We're not a co-op anymore" comments were replaced by, "We're just Whole Foods now."
One way they were not like Whole Foods was that there was, in some cases, a wide disparity in the quality and demeanor of Store Directors.  To many employees, the stores resembled little fiefdoms.  It made the prospect of transferring from, for example, Fremont to View Ridge a fearful thing, based on stories of the tantrums and favoritism of various SDs.
As the stores became prettier, a weird resentment started to pick up among some Seattleites.  It seemed to mirror the embarrassment they felt over Starbucks' success.  Some said if PCC was "trying to be Whole Foods" then they would just go there instead. PCC, once criticized for being too hippie, was now being dissed for its growth. Maybe it was all a backhanded compliment.
A new PCC store opened up, then another.  Amidst the trepidation, what some people failed to notice was that the Co-op was a lot better, cleaner and more efficient than it had ever been.  The Corporate Office may have been seen as a confused little bureaucracy but the stores were humming along nicely.  They started to expand their deli and offer delivery in some cases.  A lot of changes went on, including private label bulk items, even vitamins.
Most importantly, PCC enmeshed itself more completely with local sustainable farming (The Farmland Trust) and other community causes.  In 2007 they voluntarily removed all foods that had high fructose corn syrup.  They were vanguards of awareness about GMOs in produce and other foods.  In some ways they were beating Whole Foods at their own game.
I left in 2007, regretting that I hadn't become a little more involved with some of the good things the Co-op did (and does).  The grousing and the gossip were kind of intoxicating I guess.  And I suppose it still is, even years later.  For the latest I'd heard was that in January of 2014 the CEO (now with the Co-op 14 years) was forced out suddenly (I'm sure the Old Guard was rejoicing, and so was I, admittedly) amid swirling rumors of drug dependency and a messy divorce.  These stories were similar to the ones about the sudden departure of Jeff Voltz.  I wonder if he also left mea culpa notices in employee lockers….
PCC sure changed a lot when I was there, the look of the place, the stricter attention to healthy meats and seafoods.  The only thing that stayed the same was the communication divide between Union staff and non-Union management. I worked at PCC during that 8 year period when it grew up and decided to play ball with the big boys.  I added a few grey hairs and, though it took a few years, I thought of myself as having graduated from newbie to part of the Old Guard.
Next week PCC opens its 10th store, a daring placement on the other side of Green Lake, a stones skip across from my old Greenlake store (which is still thriving).  As with the previous few new PCCs, it is LEED certified and ultra-modern.  But now there are also several Whole Foods Markets in Seattle.  And to this day each PCC staff conversion to WFM Team Member is still considered an act of treachery but I'm all right with it, I work at a Whole Foods now myself.  And it looks like there is a giant customer base in the Seattle area to support it all.
The Co-op managed to co-exist after all the drama.  Because of its age and durability, their Old Guard hippie staff, with their knowledge and experience, far outnumbers anything that Whole Foods could offer.  And as far as that goes, maybe PCC still is a niche, though now a pretty big one, somehow holding on to the old days when they "Were still a co-op."
http://memoriesofhollywood.com/redesign2/wp-content/uploads/2014/05/pccold-260x300.jpg
300
260
Bill Hardesty
http://memoriesofhollywood.com/redesign2/wp-content/uploads/2016/09/2016-Logo-02.jpg
Bill Hardesty
2014-05-26 20:53:55
2016-10-08 15:54:56
PCC: Under Pressure