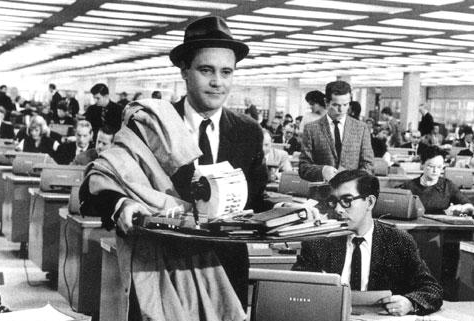 I moved to New York to go (presumably) to Art School but as far as plans I hadn't really figured anything out.  I decided to just go there anyway and stay with my brother in Brooklyn, either forever, or temporarily, until something, some plan, coalesced.
I arrived in June of '87 armed with a 4-foot steamer trunk, an art portfolio and vague plans to get my art together to show to the admissions department at Pratt Institute.   Pretty quickly my brother disabused me of the permanent residency option.
This came a quite a shock to me; I guess I really HAD made plans after all (to crash on my brother's floor in Boerum Hill until we were both old men).  It turns out Luis had become the "plan coalescer" and I realized I had to get a job, and fast.
My previous experience with work was not promising.  For one thing, I never wanted to work in the first place; I didn't like being told what to do by anybody.  It felt like a kind of bondage, having to be in certain places for predetermined daily durations (I always longed to be 'free,' to go to a movie or to just – think [daydream]).  I had worked on the Miami waterfront for a while gassing up boats (including Julio Iglesias' yacht), but I was fired for taking a day off to take my SATs.   Earlier I had worked as a busboy at the newly reopened Carlyle Hotel on South Beach. With all the heat, the lack of respect and the constant pressure, it was a total drag.
My brother knew a guy that everybody called "Blind Larry" (this cliché about New Yorkers putting a qualifier before someone's name i.e. 'Two Times Tony' was apparently true and was not just confined to cinematic Mobster use).  He had just had his paperwork approved to open a candy/newspaper stand at the World Trade Center.
Maybe I could help him out.
But I had to meet him first.  Larry was not totally blind (but "Partially Blind Larry" didn't meet the flow requirements of a good nickname) and he was a little crusty.  My brother suggested a meet and greet.  One Tuesday morning I arrived at his apartment on Elizabeth Street and we then walked to Broadway, heading further downtown.  By the time we arrived at 6 WTC, the US Customs House and site of Larry's new business, I had won him over.
Pissed off that he had lost most of his sight (to drinking related diabetes) he wanted to do everything himself.  Since I didn't really know what to do to help him anyway, I left him alone as he struggled across busy intersections.  He liked that, he took my self-conscious brand of apathy as a sign of respect and I became his right-hand man.
Since Larry wanted to do everything himself (including arguing with Treasury Agents over our under-stocked gum counter) I didn't get a lot of hours.  The days I WAS there I'd take my lunch out to Tobin Plaza and sit next to "The Sphere," the Fritz Koenig fountain sculpture that sat between the Twin Towers.  Sometimes I'd have the Village Voice with me and think how, at 21 years of age and living in New York, I had this amazing potential (which seemed really to me more like a yawning, scary future).
I needed to make more money if I was going to get away from my brother's floor and his other roommate, a kneading drooling cat named Sheba.  Also, bro's patience was wearing thin.
The back pages of the Voice were filled with want ads.  In between ones that seemed to have (unlike me) taken up permanent residency (like some place called Perelandra Natural Foods), were ads for temp agencies.  I didn't know too much about them, but temp agencies made me think of office work, which made me think of this old (1960) movie I'd seen, "The Apartment" by Billy Wilder.
The most memorable scene in the movie is almost the first, a shot of Jack Lemmon at a desk typing on a typewriter.  The camera backs up to reveal more desks with more typewriters until you see an office-cavern with what looked like dozens, hundreds, thousands of them.
This was what I wanted.
It was the only work fantasy I ever had.
I longed to be a (possibly fedora wearing) nameless interchangeable cog in the giant New York machine. Then maybe I would finally be left alone – to think (daydream).  Maybe I could find all this with temp work.
And since I considered myself a "familiarity breeds contempt" kind of guy (especially with work), the moving around from place to place just might work out for me.  After all, my brother was trying his hardest to teach me about the temporary nature of all phenomena, and this might be a good lesson.
One ad was bigger than the rest, for a place called "Payson People."  Because of the playful typeface they used in the ad, I decided this would be as good a place as any to start.  Right after I had finished at Larry's one day (he was in the middle of telling off a guy in a suit with a bulge near his right ankle pants cuff – Treasury Agent), I took the N Train up to 57th Street, got out and walked west.
Payson People was located on the south side of 57th, pretty close to the Russian Tea Room (hangout of Jackie O and Norman Mailer types) about 8 floors up in an otherwise non-descript office building.  It was run by a June Payson, who several people claimed (perhaps truthfully) was in fact Henry Winkler's sister.
I didn't know about all that, but I did find out about an hour after I got there I was not exactly acing the placement test.
Office experience – no.
Word processing – no.
I didn't own a suit and tie (I held out on that one for many years).  And unlike Jack Lemmon's C.C. Baxter, I couldn't even type.  My "Apartment" dreams were quickly vanishing.
But the results didn't seem to bother them; I still qualified to be on their call list as well as for the free lunch they had every week called "Free Fried Chicken Fridays."  And within a few days they had an assignment for me.
They sent me to the Starrett-Lehigh Building on 11th Avenue in Chelsea (NOT within walking distance of the free lunches on Friday – oh well) to work in a warehouse that stored winter coats.  For 2 weeks I moved giant lines of coats on their hanger racks (this way and that) down these long dark rooms (I guess getting everything ready for the coming winter).  It was a great old building that had a freight train stop (from the defunct High Line) on the first floor and about a dozen wooden water towers on the roof (there I became a fan of both architecture AND wooden water towers).  But occasionally I had to lift these heavy boxes and I was NOT a fan of that.
Though it was great to get the "New York Experience" (down to the bagel cart on 26th and the steam coming out of sidewalk vents), when the job ended I asked my contact at Payson to 'please put me in offices.'
But by my last day at the Starrett, and after only 2 weeks there, a kind of nostalgia started to creep in.  I was going to miss this place and I thought I needed a memento.
I grabbed a box of pens on the way out.
It took a few more days but Joyce at Payson called me with a job (it apparently WAS a challenge to place someone in an office when they really had no business being there).  It was at Arista Records, answering phones in an office for a really rude 20-something.  Though I got to talk to Carlos Santana once on the phone, and, after a job well-done, I was sent on my way with an armload of records; I still felt I was entitled to something special.
I grabbed a black Swingline stapler on the way out.
Two jobs (out of very many) into my temp career and I found I was developing a love, some might even say a fetish, for office supplies.  In a way this was odd because (with the exception of the Arista lady) everybody was really nice to me and they always gave me free stuff anyway.
They always paid for my meals and often times paid for car service to take me right to my apartment door (I'd moved out of my brother's and onto Atlantic Avenue and 3rd Street by then).  I think I wanted to have something they might miss, so they'd know that I (or some other temp) was really there.
I was an interchangeable cog that still longed to leave a mark.
By a few months later (during which time I had then moved into the Pratt dorms on Willoughby Ave.), I had racked up several temp jobs all over Manhattan, with a few in Brooklyn.  I worked in 30 Rock, as well as Black Rock (CBS had a great cafeteria), and a curvy pink high-rise called the Lipstick Building. And I was also not just "grabbing stuff on the way out" anymore.  I was also bringing my backpack in and surreptitiously "office shopping."
By this time my partnership with Blind Larry had about run out; I was just too busy with Payson People and Pratt.  At the end there I often thought about grabbing a "memento" from him too (I knew I'd miss that weird out-of-place-in-New York office complex known as The World Trade Center) but there was nothing "site specific" for me.
And taking something from Larry just felt kind of….wrong.
I had worked in a place where they had me rearrange office furniture for 4 days, another where I stuffed envelopes full of information about Obsessive Compulsive Disorder (a thing I hadn't heard of but may have been exhibiting).  From one place I sent out Christmas Cards to celebrities (here I wrote down Frank Sinatra's address and sent him a couple of fan letters).  I answered a lot of phones and did A LOT of filing.  I didn't like the phones but the filing was a lot of fun (both sorting and removing).  The following items ended up in my black JanSport:
From I.M. Pei's office – 3 books of personalized stationary and a tape dispenser.
Deloitte-Touche – a cool crystal star shaped ashtray and a lot of pens, plus a Deloitte-Touche memo pad.
Columbia Records – a stapler and 6 Large "1990 Goombay Festival" t –shirts, a small table cutter.
And from an overnight job at a law office on the West Side – several rolls of spooled fax paper (that I never found a use for).
In all this time I was also swiping subway advertising right out of the cars.  I would sometimes find myself on the subway late at night (returning from a job or a bar), and with me sometimes being the only commuter on a train, ads were easy pickings.  That is until around 1989, when they started putting the ads behind clear plastic covers.  That was ok; because I realized one only needs so many of those yellow "Pregnant?  We Can Help!" ads.
From my temp years the take was pretty impressive, scores of pens and personalized stationary pads, clothing, caps, more tape dispensers and staplers than anyone could want.  Three-hole punchers and about a dozen staple removers (my personal desert island item) and a sea of paper clips.  Weird randomly seized files, a coffee maker, several flashlights, a headache bag….
And then, partly because I realized I had grabbed several things I'd never use otherwise, I started smoking, so I could use those great ashtrays (around ten) I'd nabbed.
It was now like the set of C.C. Baxter's office from "The Apartment" in my own apartment.
As far as I know, nobody ever neither noticed nor called Joyce (my Payson rep) with any complaints.  So I just kept going. I justified it, in part, by thinking about the waste inherent in temp work itself.
One had to hire someone that they had to then train and pay a lot of money to (because 60% or so went back to the agency), and then when that temp was done they had to do it all over again!  And, you know, with some of these places I wished they'd saved themselves some money and offered me a permanent job, for I was a temp who had developed a nostalgic pull towards something more permanent.
And, as I was now learning about non-attachment, and that nothing lasts forever, maybe my thievery was a (petty) furtherance of that lesson to New York's offices.  Just as it was perhaps a testament to my denial of the very idea of impermanence, that things actually don't last forever.
Still got the black Swingline though.
http://memoriesofhollywood.com/redesign2/wp-content/uploads/2012/04/Screen-shot-2012-04-19-at-3.47.07-PM.png
373
474
Bill Hardesty
http://memoriesofhollywood.com/redesign2/wp-content/uploads/2016/09/2016-Logo-02.jpg
Bill Hardesty
2012-04-19 16:10:17
2012-04-19 16:10:17
The Temp