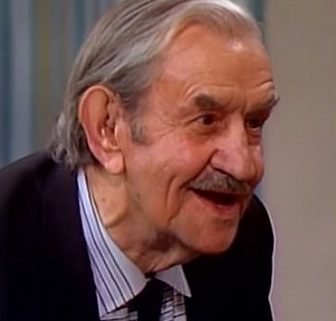 The actor Victor Kilian was bludgeoned to death at the Lido Apartments in Hollywood in 1979, a few weeks before I moved in.  Around that time and in that area, though I certainly wasn't aware of it, there was apparently a lot of dying going on.  A few miles west of my place, and just a couple of years before, Sal Mineo had been stabbed to death. At the time of Victor's death, a guy named Lionel Williams was on trial for the Mineo killing, he would shortly thereafter be convicted.
Also unbeknownst to me, the director Ed Wood had just died.  A few months before Victor, he died several miles away. But he used to live a block away, right next to a dingy 7-11 on Cahuenga, where I bought my MAD Magazines.  When Ed was living on Yucca, he liked to come in to my building, The Lido, because it had a bar and a relaxed vibe (sometimes he even came in drag).  This was when the Lido had a bar and a lively night scene, waaaaay before we'd moved in.
Victor was 88 (he'd just had a birthday) and was probably coming back home from local "hotspots" Pla-Boy Liquors or the Lemon Twist Lounge, maybe somewhere else; back home to a building that had several other old folks living there.  My building had become kind of an informal version of the Knickerbocker on Ivar Avenue; a place for retired actors, people who wanted to remain in Hollywood, and closer to their times of glory.
People who couldn't or wouldn't leave.
But Victor was still working; he'd had pretty steady work his whole career.
He'd just finished an episode of "All in the Family."  There was another octogenarian performer in that episode, Charles Wagenheim, 83.  The weird thing was that they were practically neighbors; Charles didn't live in The Lido but he sure lived close, just few blocks away.  The weirder thing was that 5 days before Victor's murder, and on Victor's birthday; Charles was beaten to death under very similar circumstances.
Det. Steve Hodel of the LAPD would solve the Wagenheim killing and later go on to write a book called "Black Dahlia Avenger," in which he put forward the theory that his father George, who was for a while considered a suspect, was the Black Dahlia killer.  As for the victim, Wagenheim; he had just come home, maybe from a local liquor store or bar (could've even again been Pla-Boy or the Lemon Twist); and surprised his maid, who was in the middle of a robbery.  She hit him on the head, killing him.
Victor and Charles may not have been best pals, but one might wonder if Victor, waking up in his (our) building the day after his birthday and hearing what had happened to poor Charles, was not a little wary and fearful. Especially when he was coming in and out of the building the next few days.  Maybe he was extra watchful that night of March 11th, but it didn't make a difference.
In early 1979 I was an eleven-year old, and I knew almost nothing of what you have just read.
I did know this: that a guy named Victor who was an actor had been killed in our building.  And, that they hadn't caught the killer.  I knew nothing of Wagenheim or Mineo or Ed Wood, and it is just as well, because I'd probably have been afraid to ever go outside.  Well, I'd heard a little about Sal Mineo because of the ongoing trial, and I'd heard it happened at a parking garage nearby.  I always speculated "was it here, was it there" whenever I'd see any parking garage.  I didn't know at the time but it was actually on Holloway, not far from Barney's Beanery, and that was pretty far away for a kid as young as me.
    I also knew that any resident of The Lido needed a credit card sized metal turnkey to gain access to the building.  In an unsolved murder such as this was (is), that little bit of information should have caused the police to take a good look at the tenants.  Knowing the killer was at large, I wondered if some of the retired actors in the building could have done it.  Were they jealous because Victor was still working?  Maybe my down the hall neighbors did it, they were kind of secretive; but really, everybody was, in that building.
If any of them did do it, they masterfully hid it from my 11-year-old detective's mind.  Because I did kind of ask around. They probably thought it was cute that a kid would go around asking about the murder, but I was interested.  I would have been even more interested in talking to Victor himself, asking him about all the cool people he had known and worked with over the years.
Upstairs in my apartment we had a small library of maybe only 20 books.  But one of them was the infamous Hollywood Babylon by Kenneth Anger.  My mom didn't really approve, but she grudgingly let me read it, the scandals; the crazy deaths and suicides (like that of Lupe Velez).  And at least it wasn't as bad as Hollywood Babylon II, which had graphic photos of Elizabeth Short, The Black Dahlia, bisected, drained of blood and dead in a field (which was book two out of our twenty, others included books about Egyptology and Edgar Cayce).
By that summer, having just turned 12, I had gotten the gist that some crazy shit had gone down in my new hometown.  Hollywood proper had receded to a seedy state by then and drugs had become a real problem.  Even my own building, the Lido, mysterious and captivating as it was to me, had become a locus of drug activity.  Some of our neighbors were dealers and the occasional deal would go down in a darkened hallway.
I'd loved the Lido at first sight.  Though it was new to me, it seemed ancient; Hollywood itself did too, for that matter.  I imagined I felt the energy of the sunlight on the orange groves that stood silently in the very spot I lived, but just a few decades before.  Back when there was nothing (no Hollywood Boulevard, Sign or Bowl).  Yet the streets and buildings seemed so established to me, so old.  I felt my town had always been like this.  It was a feeling I later never had in any other city.
But the pool, the palm trees and all that sunshine also lulled me, as perhaps it did Victor, even at the end.  Because of this, nothing could, for very long, mess with the sense of safety I had when I was poolside.  After all, the pictures in Hollywood Babylon, gory as they were, were all in black and white, so it was easy to believe they had to have happened long ago.
But I became kind of an amateur true crime aficionado.  I went to the Hollywood Public Library and looked up the LA Times story on Victor.  Not a lot of help there, they didn't even mention the number on the apartment he lived and died in (something I'd become avidly interested in).  I lived in 238, where did he live?
So I started reading about other crimes in the area, I developed a kind of criminal voyeurism that was fun, if only because it could be explored from a safe distance.  I branched off and tried to investigate some other stories from Hollywood Babylon.   If I had known about him at the time (in those days he was not far away, pulling himself out of homelessness) I might have fancied myself a junior James Ellroy. For I had become fascinated by Hollywood's combination of sexy allure and lurid criminal seediness.
In my mind I'd also turned the Lido itself into a place of danger, with criminals or even ghosts lurking around every corner.   The fact that there were a couple of mysterious fires that had broken out in the lobby, well,  that made me feel even more like a mini-Carl Kolchak from "Night Stalker."
Of course there really were criminals in the building.  And increasingly I was coming to believe, ghosts.  How could the Lido NOT be haunted?  Its weird concrete slabbed (reinforced) basement and its dark creaking hallways.  I'd seen several times the elevator arrive empty to an empty lobby.
A year or so later I heard that there was a ghost at the Chinese Theater, more specifically, one that was walking back and forth on the sidewalk in front of the stars' handprints.  And, what's more, people had even claimed that it was old Victor Kilian himself!
But how could that be?  What would he be doing there and how could he even be recognized?  Because from what I'd heard, apparitions were always kind of blurry.  I had already given a lot of thought (and fret) to the idea that if Victor's ghost was anywhere, it would be in my building, floor, apartment, or bedroom (maybe, say, at 2 in the morning).  And that he'd likely look gory and bloody, maybe with a hatchet sticking out of his head.
Maybe his ghost was compelled to pace back and forth in a more public area, to be noticed by more people, as doubtless he would have done as an actor in life.  Maybe the spectre was frustrated at not getting his own footprints in wet cement or even a star on the Boulevard.
A legend quickly arose, that he was walking back and forth looking for his killer.  I thought he would be about the only one, because the police hadn't found anybody yet, and maybe they really had given up.  That bothered me, I took a vague kind of offense that a potential neighbor and friend had been just 'offed' and nobody seemed to care.  This feeling lasted for awhile, and then I guess I too kind of forgot.   Eventually I didn't seem to care anymore.
With this unsolved murder my building kept a secret, and it keeps it to this day.  I came to realize that the benefit of ghost stories about Victor Kilian was to kind of keep his memory alive.   I'd learned that in this town full of glamorous distraction and occasionally violent crime, sometimes a good ghost story could be the only way to do just that.
http://memoriesofhollywood.com/redesign2/wp-content/uploads/2012/10/VictorKilian.jpg
402
336
Bill Hardesty
http://memoriesofhollywood.com/redesign2/wp-content/uploads/2016/09/2016-Logo-02.jpg
Bill Hardesty
2012-10-10 14:04:36
2016-12-15 08:25:24
Who Killed Victor?